A productive weekend, more or less, but not nearly enough done.
We went up to Williams Bay, Wisconsin with friend Carol to hear the opening performance of the season by the
Lake Geneva Symphony
. There were only two pieces on the program.
The first was Ravel's
Piano Concerto in G Major,
new to all three of us and (I gather) not often performed. The piece clearly reflects the result of an American visit by the French composer, who used jazz styling and motifs throughout. The timing and nuance are almost Gershwin-like, and reminded all of us of
American in Paris
and
Rhapsody in Blue
though there were no obvious quotes from either of Gershwin's masterpieces. Pianist Krassimira Jordan was remarkable, virtuoso even beyond what I expected, and that is certainly needed for this concerto. The style is intricate rather than bombastic, and requires passages where each hand plays in a different key or time signature, as well as a lot of cross-hand work. The overall result was very fine and we enjoyed it greatly.
The second selection was Tchaikovksy
Symphony No. 4 in F minor,
which was all the better for Conductor and Musical Director David Anderson's advance explanation of major themes and elements of the work. The LGSO has improved a great deal (not that it was bad to begin with) under Anderson's direction, and the performance came across very well. The French horns play a major role in this symphony, and they sounded like the noted horn section of the Chicago Symphony this time.
A predicted heavy frost skipped over our small garden, so we still have green tomatoes that "might" ripen before the vines are killed, but hope is diminishing. The plants are heavily laden, but almost nothing has turned ripe yet. The pumpkins I did NOT plant have produced six usable pumpkins so far after sprouting from seeds that apparently made it through last winter in the compost bin. There are many more immature fruits on the ground, but I'm pretty sure the frost is going to cut them off soon. These are the small and heavy pumpkins that can be used for pies and soup, not the large thin-shelled jack-o-lantern variety. We will put them to good use.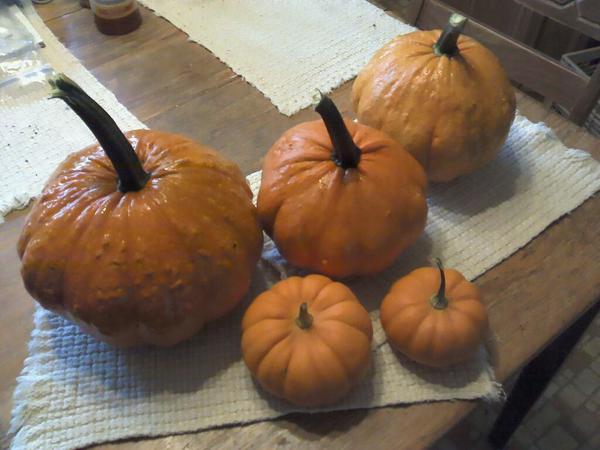 On Sunday I also baked a peach pie, bought groceries, tried to photograph the fall colors though it wasn't really sunny enough, and made a pot of cholent. We haven't had cholent for a couple of years and the cooler weather inspired me to put it together. It's a traditional Jewish stew, created to cook slowly overnight from Friday to Saturday so it would provide a hot meal on the sabbath without requiring anyone to cook or light a fire. The principal ingredients of my Hungarian version include small lima beans, tomatoes, onion, garlic, carrots, turnips or rutabaga, smoked sausage (I use a turkey sausage,) and both hot and sweet Hungarian paprika. I usually bake this in a closed cast iron pot at 250°F for about 8 hours, but this time I opted for a slow cooker set to high temperature. A little red wine added near the end of cooking enriches the blend and enhances the aromas. The smell becomes enticing after about four hours and makes you drool after the sixth. As usual, it turned out well, since it is almost foolproof and requires little attention once assembled.